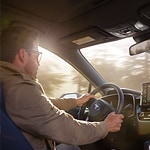 The Toyota Corolla is known for its reliability and safety. With the new 2021 model, it also comes with some of the most advanced technology features on the market. Learn about these features below.
1) Android Auto/Apple CarPlay Integration: This feature allows you to seamlessly integrate your smartphone with your car's in-dash display so that you can enjoy all of your favorite apps while driving.
2) Blind Spot Monitoring System: The blind spot monitoring system is designed to give drivers an early warning when there's a vehicle in their blind spot.