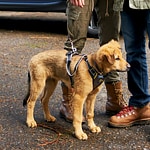 At Stoltz Toyota of DuBois in DuBois, PA, we love helping our clients look for their next dog-friendly vehicle. Whether you take long trips with your pet or run short errands, it is always great to have a vehicle that is comfortable for you and your pets.
Leather seats are great for keeping your vehicle clean, as are all-weather mats for the floors and cargo area. You may also want seat covers and a harness if your dog likes to sit in a seat as you drive.
If your dog is in the rear of the car, it is also important that they have air vents in the summertime to stay cool. A lot of larger SUVs offer rear air vents, as do family vans. Window tinting can also help keep your dog cool and keep the sun off of them.