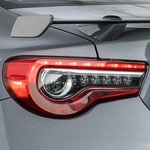 Here at Stoltz Toyota of DuBois drivers are impressed with the interior design of the Toyota 86. This popular sports car offers amenities that some other sports vehicles lack. Toyota has made a dedicated effort to keep the 86 at the top of its class.
The suede-like accents to the upholstery in the Toyota 86 lend a touch of style, but the manufacturer also made the interior design functional. A folding rear seat comes standard on the 86, and there is 6.9 cubic feet of space in the trunk. You get all the flair of a sports car paired with the functionality of a sedan.
We want to introduce you to the Toyota 86 with a test drive. Just call our dealership here in DuBois and we will be happy to schedule a time that is convenient for you. Our friendly sales team will also be happy to talk with you about financing your new car.