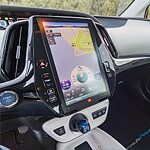 The 2020 Toyota Prius is a vehicle that is known for its sculpted interior. It is also designed to maximize fuel efficiency. It has the ability to get up to 58 MPG on the road. This vehicle has Available color Head-Up Display. It displays information, such as hybrid system information and speed
You will also be able to get the directions displayed on the screen. This will allow you to keep your hands on the road while getting the help that you need. Amazon Alexa is another feature that the Toyota Prius has. You will be able to use this feature to check the weather and listen to the news.
You will also be able to control your smart home devices from your car. All you have to do is ask Alexa. You can test drive the Toyota Prius before you drive it. If you want to do that, then you can visit our dealership.