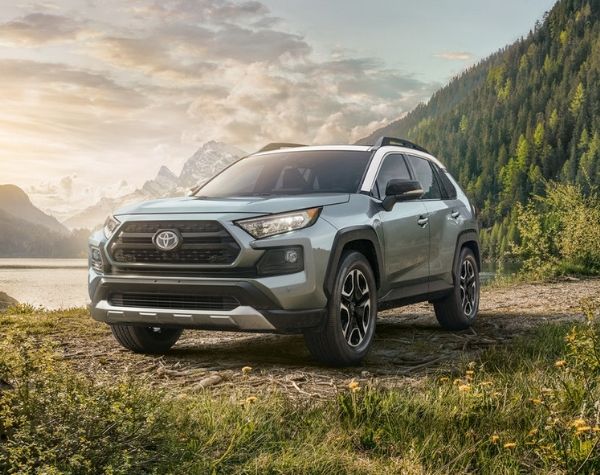 Toyota has carved a niche in the compact and sedan markets by constantly refining the design and performance of the industry leading vehicles. Recently, the automaker has devoted the same focused attention to the RAV4, which has emerged as one of the most popular crossover SUVs. The 2019 RAV4 has undergone numerous updates that include a more powerful engine, as well as new safety and technology features.
The 2019 version of the RAV4 runs flawlessly on a 2.5-liter engine that delivers 203 horsepower, which is nearly 30 horsepower more than the 2018 Toyota RAV4. An eight-speed automatic transmission coupled with the new engine help the 2019 RAV4 achieve a combined fuel efficiency of 30 miles per gallon.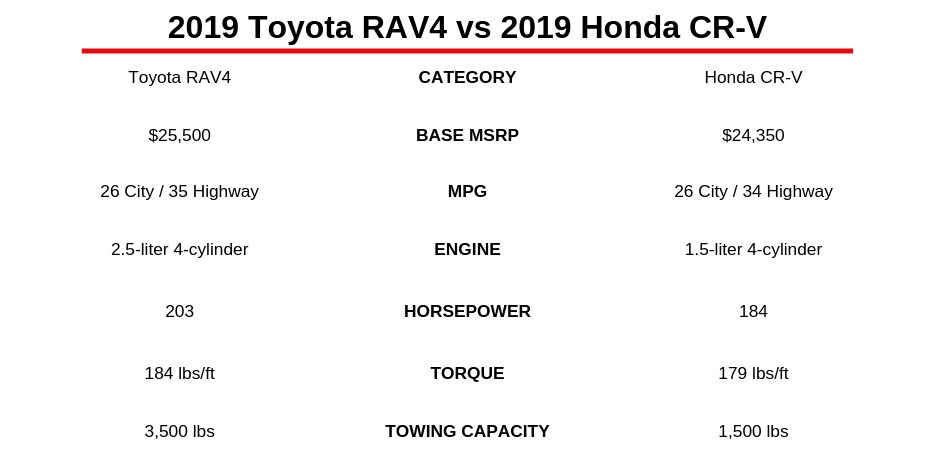 Toyota has introduced a new trim for the 2019 RAV4 called the Adventure. Designers have styled the Adventure trim to appear like the exterior of Toyota's line of highly rated trucks. An all-wheel drive system gives the 2019 version of the RAV4 more traction, which makes the crossover SUV ideal for off road travel and hauling cargo that weighs up to 3,500 pounds. Larger cargo space, a more comfortable back seat, and a smooth ride over undulating terrain are some of the reasons the 2019 Toyota RAV4 ranks high among automotive industry reviewers such as Edmunds and Car Connection.
Several tests over standard driving conditions have demonstrated the 2019 RAV4 accelerates at a faster pace that the acceleration rates of crossover SUV counterparts such as the 2019 Honda CR-V. Easy shifting of the transmission gives drivers more confidence to change gears to account for rapidly changing terrain. The 2019 Toyota RAV4 possesses an incredible amount of agility when moving around sharp turns, which makes the crossover SUV a good choice for motorists that frequently travel through winding stretches of hilly roads and highways. Spacious room inside the cabin ensures taller drivers remain comfortable on long distance trips. Toyota has positioned the 2019 RAV4 as the ultimate family car for owners that like a little extra power delivered from the gas pedal. 
Behind the back seat is more than 37 cubic feet of cargo space, which ranks higher than the cargo space offered by the 2019 CR-V. Toyota engineers have strategically placed several small item storage spaces inside the 2019 RAV4 to give drivers convenient access to smartphones and house keys. The 3,500-pound towing capacity of the 2019 Toyota RAV4 competes with the towing capacities delivered by some small truck trims. A seven-inch touchscreen infotainment system and Apple CarPlay take care to the entertainment for passengers. Proprietary Safety Sense Suite 2.0 comes with industry leading safety features like lane keeping assist, adaptive cruise control, and forward collision mitigation with automatic braking.