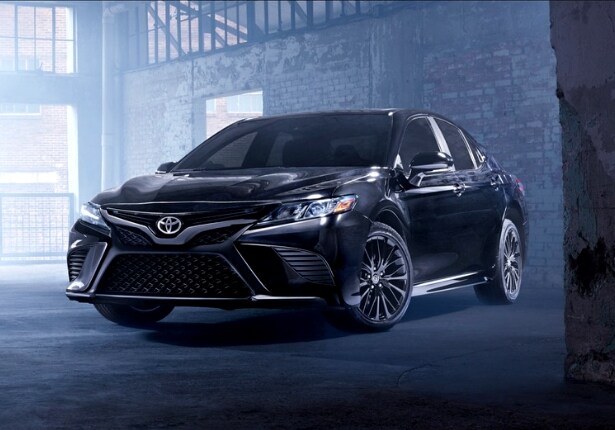 The highly rated automotive team at Stoltz Toyota is proud to announce the arrival of the 2019 Camry. With a significant redesign in 2018 that included a new double wishbone rear suspension, the 2019 version of the award-winning midsize sedan arrives at our dealership with a few tweaks ranging from improved steering control and a slightly tighter suspension. All the other positive attributes of the Camry remain, such as the numerous proactive safety features and firm handling over undulating terrain. The 2019 Camry is the only member of the midsize sedan vehicle class offering a hybrid engine that tops 50 miles per gallon.
Here are a few specs that distance the 2019 Toyota Camry from the 2019 Honda Accord.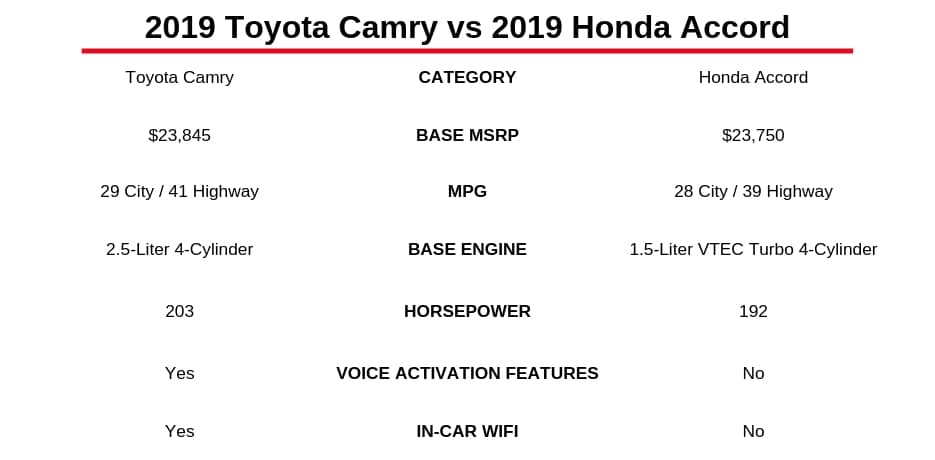 Other Features of the Toyota Camry
The 2019 Toyota Camry comes with numerous driver aids that enhance vehicle safety and performance. Adaptive cruise control automatically adjusts the speed of the 2019 Camry to account for traffic and the speed of nearby automobiles. The lane departure safety feature has received rave reviews from independent online car review sites. Voice activation prevents distractions by eliminating the need to adjust safety and performance features manually. Toyota has paired smartphone devices with the automaker's advanced Siri Eyes Free tool that only requires the pressing and holding down of the voice activation button. 
The easy-to-use audio system includes large, clearly labeled buttons and a display monitor that is easy to read even if it is hit by direct sunlight. Activate the proprietary Entune app and couple the app with the Scout GPS Link app to get from point A to point B in the quickest way possible. Toyota has made the Apple CarPlay system standard for the 2019 Camry, which delivers pristine audio for backseat passengers that watch movies and television shows.
Our customers have three engine options for the 2019 Camry: the standard four-cylinder engine, the more powerful V6, and the fuel-efficient hybrid. Two sporty design choices broaden the range of vehicle styles for the popular midsize sedan. The 2.5-liter four-cylinder engine delivers more than enough power for virtually every driving scenario. With an eight-speed automatic transmission, our customers enjoy smooth driving and the capability of reaching 60 miles per hour from a standstill within eight seconds. The brakes are easy to control, without generating a pedal feeling that is too soft or too firm. Independent tests confirm the outstanding braking power of the 2019 Camry, which can come to a stop from moving 60 miles per hour in under 120 feet.
Come out to Stoltz Toyota of DuBois to test drive a 2019 Toyota Camry!